All of Rubicon Online's engagement comes from social media. If an article is controversial, community members will comment on Facebook. If students see someone they know in an Instagram post, they'll comment and share the post. When we skip a few days of posting on Instagram, someone will inevitably ask me why in between classes. We use social media for marketing the publication and teasing stories.
The most significant change I helped make to the Rubicon Online staff during my time as Director was removing the social media manager and transitioning to more social media training. In my first year on staff, I was a news editor and an avid follower of the social media schedule set in place by the social media manager. Immediately, I noticed that the manager struggled to keep track of who posted because there's no real way to tell who posted on an account. We posted about published stories on our account, but we didn't cover breaking news on social media or any events happening in real-time. We didn't take full advantage of the possibilities. The following year, nothing changed with our process, and it didn't work any better. Instead, I began working with the social media manager to review, update, and create style guides and train the staff to post effectively.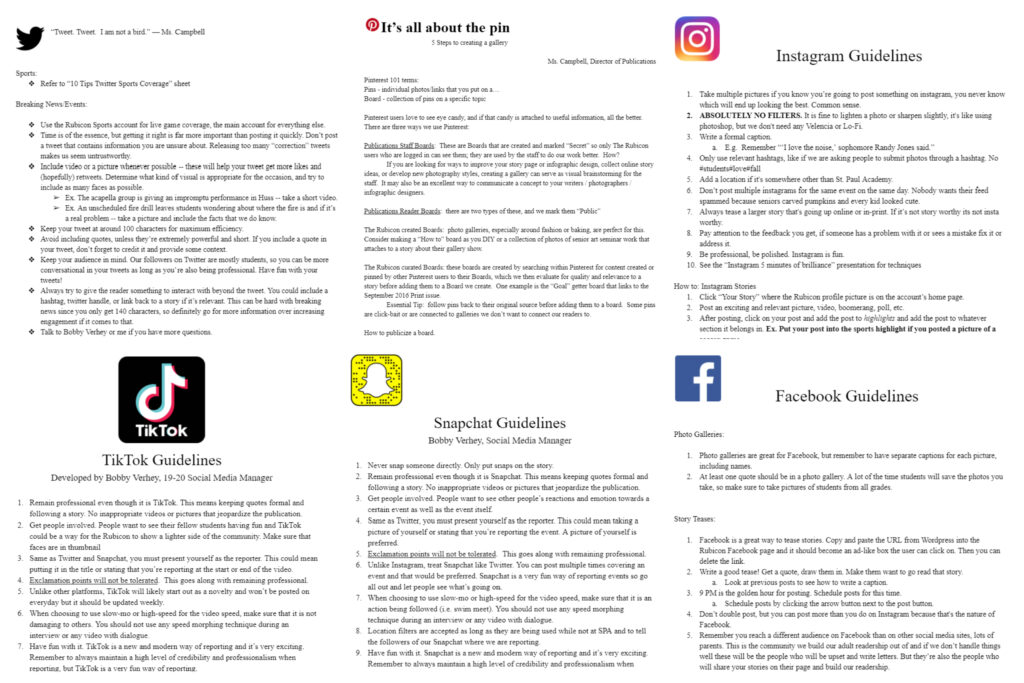 This year, we decided to forgo the social media manager position entirely. We increased the number of workshops on creating visuals and teasing stories on social media. When we weren't posting daily, I set the expectation that every article should have an associated post. Not every single article published on the site is teased on social media, but the majority of them are. I motivated the staff by reminding them of our posting streak.
Every semester we have a few Development Day presentations about increasing engagement in a section by using social media. Development Day is where each editor presents a goal they have for their section and educates their peers on how to achieve the goal. Every section would love to be more interactive and dynamic. The ultimate goal is to have a highlights video of a basketball game posted on social media and hyperlinked in a story or an audio embedded in a news story and incorporated on social media. I plan workshops into our schedule based on the editors' goals, and I ask editors to prepare a workshop themselves.

Often, we have team stories that are posted on social media. Team stories are when staff members are grouped and sent into the community during class time with a question. For example, we recently did a team story on Valentine's Day, asking students, "What do you love?" Not only does this engage the community in our process, but it allows staff members to practice our social media style guides in the field. You can view the team story here.
To increase our audience engagement, we have to improve the quality and creativity of our social media posts.